2x Reflective Vests for Running, Cycling, Walking
High Visibility Reflective Vest 2-Pack
Set of two reflective vests for running or cycling

Reflector jacket made of 100% breathable polyester mesh (120 g) meets EN20471 standard

Three sizes available for this safety clothing: S/M, M/L, L/XL

Fully adjustable, lightweight and breathable design allows a full range of motion for all runners, joggers, bikers, kids and adults

Hi vis gear with zipper pocket for storing your iphone, keys, cards, money, etc
Did you know that every year in the US thousands cyclists and runners are killed in the traffic? Can you afford not to be seen?
Any outdoor activity can be dangerous for your safety on the road. Many of these accidents could have been avoided just by wearing high visibility clothes, like our reflector safety vest. It provides you the protection and safety necessary to be seen be safe in any low visibility situation. Get high visibility is critical for your life anytime!

What's Included?
– 2x reflective vest with pockets
Features and Benefits
• Reflective tapes provides maximum reflectivity and visibility in 360º coverage
• Reflectivity standard EN20471, visible over 750 feet in all weather conditions
• Fluorescent yellow fabric for more visibility
• Fully adjustable waist with durable velcro, size S/M, M/L, L/XL
• Lightweight made of 100% breathable polyester mesh for maximum comfort
• Safety jacket includes a zippered pocket for storing some stuff
Our reflector vest is a great gift for loved ones, friends or buddies, a must have for safety motives while doing any outdoor activity!
ORDER TODAY YOUR REFLECTIVE VEST SET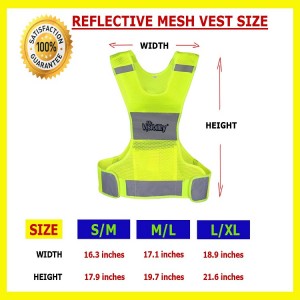 Some Real Amazon Customer Testimonials. Check Out More on Amazon.com
Set includes, 1 belt, and 2 ankle bands. Ankle bands secure with velcro, strong velcro. The belt secures with a heavy duty clip. Belt is adjustable. This set is great for anyone who runs, walks, bikes, etc…. Set is very lightweight, fits comfortably, and reflects light very well …
Cool reflective belt and ankle bands! I've used it cycling and running late afternoon/night. I like it because it is comfortable and great for visibility out on the road!
…
My kids will be safe riding their bikes. Every summer my kids are taking bike rides every summer and I always afraid of reckless drivers. Now I can be comfortable because those vests are having great visibility and reflect light in dusk .
..