Safety Lights for Runners, Walking, Bicycle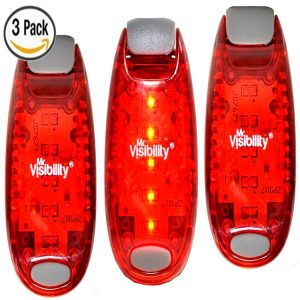 High Visibility Safety Light Set
3-Pack of LED lights with 5 ultra bright LED per device with 3 illumination setting modes: steady, slow flash and strobe

Powered by two coin batteries -CR2032- (already fitted ) giving powerful brightness up to 100 hours

Great bonuses: 3x extra batteries more, 3x Velcro straps, 1x Mini screwdriver

Unlimited applications such as running, jogging, walking, biking, hiking, etc. Clips the LED lights onto your helmet, belt, pet collar …

Lightweight, small, durable and robust. Comfortable and weather resistant!

Every year in the US, thousands cyclists, pedestrians and other are killed in the traffic. Running, cycling, dog walking or other outdoor activity can be dangerous for your safety on the road. Many of these accidents could have been avoided just by wearing high visibility safety gear, such as our LED lights set. It provides you the protection and safety necessary to be seen in any low visibility situation!

Mr Visibility LED Safety Light 3 Pack
– 3x LED Safety Light devices
– 3x Velcro Straps
– 3x Extra Batteries (total 6)
– 1x Mini Screwdriver
Features and Benefits
✔Ultra bright LEDs, 5 glowing lights per device
✔3 setting modes: steady, fast strobe, slow flash accessible by just one click
✔Strong secure clip, attaches to clothing or accessories along with velcro straps for providing better versatility
✔Durable up to 100 hours with replaceable batteries, spare battery included
✔Weather resistant and great portability
A Fundamental LED Device for Multiple Outdoor Activities
Provides safety lights for runners / walking / pet / bike / child,…
Essential safety gear either in the daytime or at night, attachable to dog collar, leashes, bike helmet, bicycle, reflective clothes, clothing, backpack, etc.
ORDER TODAY YOUR LED SAFETY LIGHT 3-PACK
Some Real Amazon Customer Testimonials. Check Out More on Amazon.com
This led light is really bright. I thought it would be really dim since its really small. Its very durable and it holds pretty well. One thing that im worrriy about is its plastic.But i havent used for long time to see this plastic material is strong or not…
I am so thrilled that here in the Midwest we are experiencing spring like weather, it's 62 degrees in February, so we are walking again out doors and the kids are riding their bikes. The lights are very bright and visible for me up to 3 blocks away. Comes with 3 Velcro straps, 3 extra batteries, and a small screw driver. I love theses, they give me peace of mind knowing that the kids are more visible while we are outside at night…
I ordered this LED Safety Light (2 Pack) because me and my family loves to exercise! run or hiking is what we always do once or twice every two weeks. All I want to say is I love this product! It is so light weight that i can put it anywhere or even hold it because it really light.. it is very convenient to have this product especially for someone who's active and always to exercise.
..