The Best High Visibility Gear. Buy Now On Amazon!
LED Reflective Belt USB Rechargeable + Extension Belt
 USB Rechargeable (free cable)
Bonus Extension Belt (green/blue colors only). Fits both adults & children

3 LED light setting modes: Steady / Fast Strobe / Slow Flash (green/blue colors only)

 Reflective Elastic Strip + LED band (fiber optic technology)
 Lightweight, comfortable and fully adjustable
 Waterproof (splash proof)

Our reflective LED belt is the best outdoor gear for safety, gives 360 degrees of high visibility, better than any reflective vest. It holds a high reflective elastic strap (reflects light) and one LED band with a powerful light at night (gives off light).
What's Included?
– 1x LED Reflective Belt. Length: 32 inches to 50 inches (stretched max)
– 1x USB cable for recharging.
– 1x Extension Belt (Bonus only available in Green/Blue colors). Length: 16 extra inches
It fits about any outdoor sport or activity, such as: running, cycling, jogging, (dog) walking, biking, hiking, motorcycling, etc. Even it is recommendable for roadside safety, construction, military, highway patrol, child safety, airport staff, etc.
It is lightweight, versatile, comfortable and fully adjustable. Only 1 click is necessary to change the three kinds of LED lights: steady / fast strobe / slow flash. Our safety belt is user friendly, the reflective strap is elastic and easy to adjust, you can wear at the waist (more common), shoulder or around your backpack/bag.
Quality is first key of our company, we have some quality certifications (CE & Rohs) and your belt is waterproof (splash-proof). USB rechargeable battery with cable supplied free (no more battery cells). It gives 10 hours on flashing mode and 6 hours steady on glowing mode. The battery life holds more than 500 times charge-recharge.
ORDER TODAY, CHOOSE YOUR COLOR: GREEN / RED / BLUE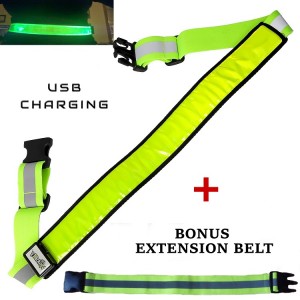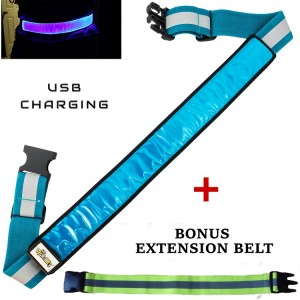 Some Real Amazon Customer Testimonials. Check Out More on Amazon.com
I feel its much better than a simple reflective vest or belt, simply because of the leds. It allows much more visability…
Wow, I'm such a fan! Well made, good design, comfortable to wear, and SO much brighter than the small clip-on flashing light I was using before. I use it for riding my horse at night, and it's super easy to wear without anything 'extra' that could cause a safety issue…
I always run at night and this belt is the best. People do notice when I am out there and the price is good. Plus I don't have to spend money on battery. I simply charge the battery and that's it…