Safety Vest Reflective for Running, Cycling, Walking.
The Best Visibility Silver Reflective Vest 2-Pack
Set of silver reflective vests (regular & large size) + carry pouch

Reflective tape wider than most competitors (0.8″)

Silver reflective material provides maximum reflectivity and visibility in 360º coverage

Fully adjustable waist and shoulder straps, durable and long-lasting

Lightweight with 100% elastic fluo yellow polyester material for maximum comfort
Every year in the US, thousands cyclists, pedestrians, runners… are killed in the traffic. Any outdoor activity can be dangerous for your safety on the road. Many of these accidents could have been avoided just by wearing high visibility clothing, like our hi vis reflector vest. It provides you the protection and safety necessary to be seen be safe in any low visibility situation. Get high visibility is critical for your life anytime!

Mr Visibility Reflective Vest is sold in set of two safety clothing:
– 2x Reflective Vests
– 1x Fluo Carry Pouch

Available in 2 sizes: Regular and Large.
1) Large (L/XL) – Waist band circumference: 32″- 54″ inches | Shoulder Straps: 16″- 24″ inches waist to shoulder.
2) Regular (S/M/L) – Waist band circumference: 26″- 40″ inches | Shoulder Straps: 15″- 21″ inches waist to shoulder.

Our Reflective Vests are highly reflective at night & day time, providing 360° reflectivity and visibility in any weather condition and poor light, visible up to 1,000 feet!

ORDER TODAY YOUR REFLECTIVE VEST 2 PACK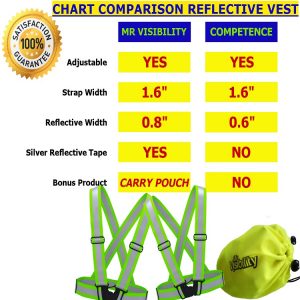 Some Real Amazon Customer Testimonials. Check Out More on Amazon.com
This vest is awesome. It is a good vest to use at dark when running. I noticed drivers notice me while on the road. Thank you for making this excellent product
…
Great quality! Fits well and highly reflective! The wrist wallet holds necessities – key, phone. The adjustable straps help this fit both myself and my husband when running. It's also great to use when snowblowing the driveway during a storm so that cars can see you near the road. I like that it is also adjustable around the waist.
..
I love this vest. It is very well made (the clips are very high quality) and is, of course, very reflective. Multiple adjustment areas make for a very customized fit (as loose or tight or high/low as preferred). The reflectivity is great (I made my husband stand in front of our car). The bonus wrist wallet is a "bonus," and will hold money, credit cards and keys,.
..